Low Carb Diet Myths and Misconceptions
The infographic discusses some common myths and misconceptions associated with low carb lifestyle. Many people believe that these diets ban the consumption of carbohydrates, fruits and vegetables, and alcohol. Other misconceptions are that low carb diets raise cholesterol levels and cause different medical problems such as heart disease and kidney disease. Feel free to use the infographic below on your website, as long as you link to the original page where it was first published: Embedding the infographic on your blog or website is very easy and you'll find instructions how to do it here. The infographic is licensed through the Creative Commons Attribution-No Derivatives License which allows redistribution both commercial and noncommercial as long as it is unchanged and credited to Low Carb Foods.org.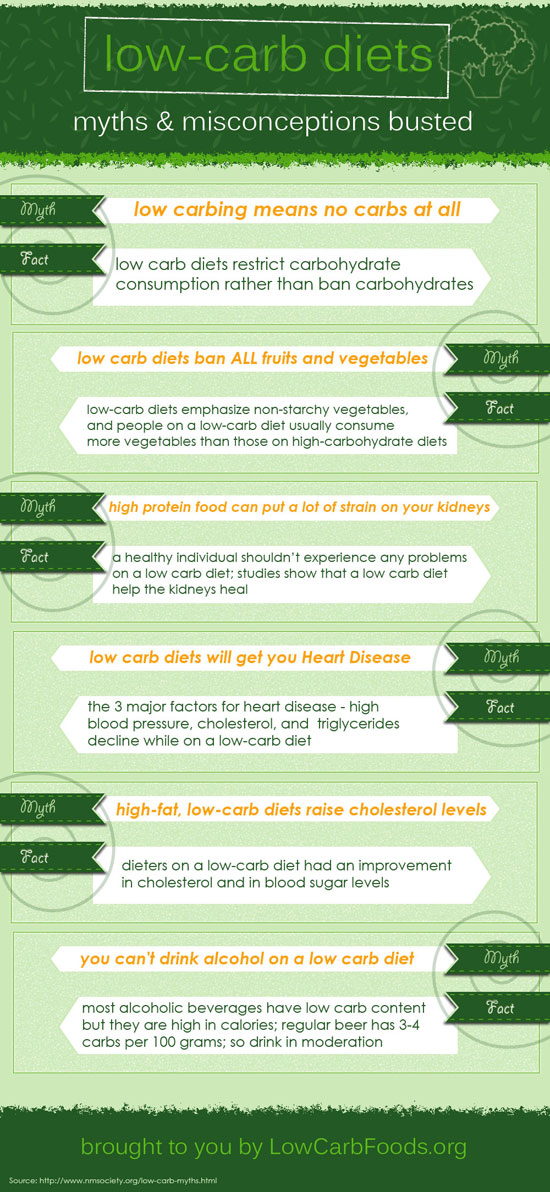 Embed this Infographic on your site using the HTML code below:
In fact, the infographic shows that low carb diets restrict rather than ban the consumption of fruits, vegetables, and foods high in carbohydrates. Many people eat diets high in carbs meaning that they have too many of them to begin with. The goal of these diets is to reduce the amount of carbohydrates consumed by the dieter so that it is easier for the body to handle and process them. Furthermore, low carb diets only restrict the consumption of fruits and vegetables rather than recommend avoiding them altogether. Dieters are encouraged to eat non-starchy vegetables and fruits such as sea vegetables, hearty greens, cranberries, and blackberries. To illustrate the beneficial effects of low carb dieting, the infographic shows that many people end up consuming more fruits and vegetables than people on a high-carb diet. This has a number of health benefits, and a growing body of research indicates that eating vegetables and fruits is important for maintaining good health. They contain essential minerals, vitamins, and fiber that protect the body from different chronic illnesses, including certain types of cancers, cardiovascular diseases, and stroke. Eating fruits and vegetables lowers blood pressure and cholesterol levels and is an effective weight management tool.
Many dieters also believe that they aren't allowed to drink alcohol while on a diet. Some alcohols have high amounts of added sugar, and the liver processes alcohol immediately to neutralize its effect. Thus it is recommended to drink in moderation and avoid drinking on an empty stomach.
One misconception is that low carb dieting raises cholesterol levels while in fact, the infographic shows that the blood sugar and cholesterol levels of dieters tend to improve. The good news is that low carb diets encourage the consumption of foods that produce good cholesterol. Moreover, triglyceride levels fall, and people benefit even more from being on a low carb diet. High levels of triglycerides are associated with an increased risk of stroke and heart disease.
Another myth is that low carb dieting can cause kidney problems. Patients with kidney disease are advised to consume less protein. Some people take this to mean that high protein diets put strain on the kidneys. The infographic shows that people on a low carbohydrate diet do not consume excessive amounts of protein. Moreover, a low carb diet is not necessarily a high protein diet. Some studies have even shown that diets high in carbohydrates and protein do not have any harmful effects on kidney function or health. They do not cause kidney problems such as electrolyte imbalance, kidney stones, or low filtration rates. High protein diets appear to be a safe weight loss method, except for people with advanced kidney disease and those suffering from diabetes.
The infographic helps dieters to learn some important facts about low carb lifestyle. It busts common misconceptions and myths that can ruin one's diet or make it more difficult to choose the right diet. Moreover, many of these claims are not scientifically sound, and taking them for such can be harmful for health. For example, the body does not benefit from avoiding foods that are high in carbohydrates. It works best on a balanced diet that includes fats, protein, and carbohydrates. When carbohydrates are not available, the body's metabolic rate slows down, and dieters may gain rather than lose weight.