Low Carb Diets
Low carb diets such as the South Beach, Zone, Low GI, and Atkins have become increasingly popular as a method for healthy weight loss. They offer many benefits, including diversified and balanced menu, steady weight loss, and others.
How Does Low Carbing Work
Dieters avoid foods that are high in simple carbohydrates and consume foods that contain protein, dietary fiber, and healthy fats, including omega-3 fatty acids. Protein-rich foods include poultry, lean meat, fish, cheese, and dairies. Dieters avoid foods such as dried fruits, white rice and flour, corn, and potatoes. Bad or simple carbohydrates come in the form of sucrose, maltose, lactose, galactose, and fructose. Low carb diet focuses on foods such as nuts and seeds, sprouted grains, dark leafy greens and other vegetables. The goal is to experience metabolic changes, avoid spikes in blood sugar levels, speed up fat burning, and lose weight. Dieters drink plenty of water to stay hydrated and flush ketones from the body. With ketogenic diets, the body burns fat instead of simple carbohydrates and uses it for energy.
Health Benefits
There are many benefits to low carb diet, including lower blood pressure, improved HDL, and improved concentration. Other benefits include lower blood insulin, improved size of the LDL particles, reduced insulin resistance, and others. Ketogenic diets have a good effect on triglycerides, fasting blood sugar levels, and abdominal obesity.
Low Carb Foods to Eat and Products to Stay Away From
There are many products to include in your daily menu, and foods that contain protein top the list. These include lean veal and beef, turkey breast, eggs, tofu, soybeans, almonds, peanuts, peanut butter, and other high-protein foods. Dieters are encouraged to consume vegetables such as cabbage, celery, broccoli, asparagus, cucumber, green beans, and others. As a rule, most diets include non-starchy vegetables such as okra, cauliflower, and other salad vegetables. Dieters are free to consume low carb fruits such as blueberry, raspberry, and rhubarb. Seeds such as watermelon, chia, squash, and pumpkin seeds are also on the recommended list. The types of foods to eat depend on the diet, but most diets recommend foods such as fowl and fish, including goose, duck, chicken, cod, salmon, herring, and others. Most diets emphasize the importance of lean protein in different forms, for example, lamb, ham, bacon, and others. Dieters can have cheese and eggs as well, including cream, cheddar, feta, and other cheeses. They can use herbs such as cilantro, parsley, and basil. Oils and fats are also an important component in a reduced-carbohydrate diet. Dieters consume nut and sesame oil, sunflower and olive oil, and other foods that are high in healthy fats. The list of high-fat foods includes cream, avocado, peanut butter, and coconut oil. When it comes to substitutes, low carb bread and tortillas are good choices.
Dieters should stay away from certain foods, including deli salads, beets, processed foods, baking supplies, candies, crackers, and pasta.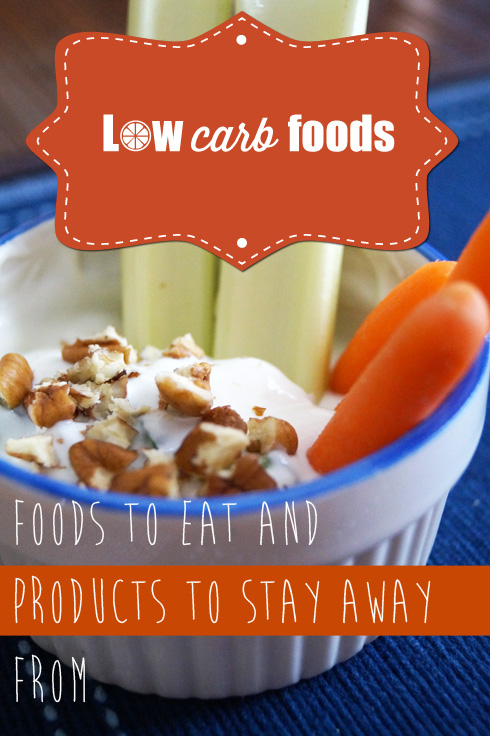 Types of Low Carb Diets
There are different diets depending on your food preferences, lifestyle, and other factors. They all are low carb plans that emphasize healthy and balanced eating.
The Low GI
Atkins
The Zone
South Beach
The Low GI diet
The Low GI diet focuses on foods with a low glycemic index value such as celery, cucumber, green beans, rice noodles, and others. Unlike high GI foods, they cause a steady rise in blood sugar levels. The goal is to maintain balanced blood sugar levels, lose weight, and prevent health problems such as cardiovascular problems and diabetes.
The Atkins Diet
The Atkins diet is also a popular weight loss plan that goes through four phases, from induction to life maintenance. Dieters avoid alcohol and caffeine, legumes, starchy vegetables, and grains during the induction phase. Recommended low carb foods include seed oils, butter, lean meats, eggs, fish, and other high-protein and high-fat foods.
The Zone Diet
The Zone Diet is also a popular choice that emphasizes healthy eating and consuming fat, carbohydrates and proteins in a balanced ratio. The ultimate goal is steady weight loss, and dieters are encouraged to consume monounsaturated fat, non-starchy vegetables and fruits, and protein-rich foods. Foods that contain added sugar should be avoided. Moderate exercise is an important component of the plan.
The South Beach Diet
The South Beach Diet is yet another popular plan that was developed by Arthur Agatston and is a healthy alternative to fad diets that drastically cut calories and portion size. This plan recommends eating nutrient-rich and filling foods, including healthy fat and protein and dietary fiber. The diet goes through 3 phases, with many nutritious foods to consume, including tofu and other soy products, beef, poultry, fish, nuts and seeds, and others. During the second phase, dieters can have vegetables and fruits, whole grain pastas and breads, and other foods that are banned during the first phase. There are other popular diets that are suitable for meat eaters, vegetarians, and vegans.
Other diets are Sugar Busters, no-carbohydrate, the Stillman diet, ITG Diet, Dukan, and others. Some diets are known as fad or crush diets because they involve drastic reduction in food portions and calories. Examples are the Sadness dietary pattern and the Subway and Junk Food diets. They are considered unhealthy because such diets involve extreme changes in eating patterns. Stay away from plans such as the Israeli Army, Cabbage Soup, Watermelon, and Beverly Hills Diet. There are very low calorie diets as well, for example, the KE and Breatharian diet. Unlike them, popular low carb plans emphasize the importance of gradual weight loss.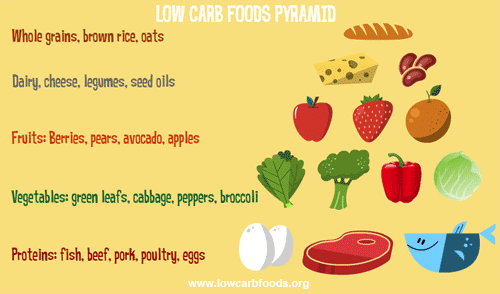 Why Low Carb Diets Work
Reduced-carbohydrate diets work well in helping dieters to lose and maintain healthy weight. One reason is that dieters can choose from a selection of tasty and healthy foods and thus avoid food boredom. Dieters find it easier to stick to the plan because they consume nutrient-dense foods. Low carb diets also work well because the body releases insulin in a steady way. When eating starchy foods and products with added sugar, the body releases large amounts of insulin, making it difficult to burn fat deposits.