Eating Low Carb Foods When Camping
Sticking to a low-carb diet when camping is not difficult if you plan ahead and are prepared. While everyone is having spaghetti, pasta, or lasagna, you can eat string cheese, roast beef, green salad, boiled egg, and olives. You can even have dessert! How about strawberries, blueberries, or cranberries with peanut butter?
Foods to Bring Along
Instead of potato chips and sandwiches, you can have celery, carrots, or plantain chips with humus or another dip. For dessert, you can choose from different fruits such as raspberries, oranges, and apples. You have plenty of options for breakfast - sausages, bacon, ham, scrambled or hard boiled eggs, cheese, and so on. You can even make low-carb pancakes. Why not prepare sugar-free cookies and muffins and bring them along? If your camping site has a BBQ or grill, then you can make fish, prawns, chicken, or steak. A camp fire will do as well. Use seasoning, lemon, onion, and herbs to flavor the meat. You can also make a low carb salad. Bring toppings or salad dressings, pre-cooked chicken, tomatoes, and lettuce. If you want to have burgers, you can do this too, just prepare flax buns ahead of time. You can add Dijon mustard, mayonnaise, red onion, avocados, tomatoes, Worcestershire sauce, pickles, or anything else you like. Store the buns in a ziploc bag and piece them together at the camp site. Another option is to bring frozen homemade soups such as beef and vegetable soup, cheddar and broccoli soup, or cauliflower soup. You can heat it up over the camp fire. Other soups to prepare are blue cheese and tomato soup, Greek chicken soup, and artichoke and spinach dip soup. When it comes to snacks, you have plenty of choice. You can bring a cartoon of almond milk and protein bars.
Low Carb Foods for Your Solar Cooker
Solar cookers use direct sun energy and are ideal for camping and slow cooking. There are plenty of recipes for solar cookers - just bring the products with you. You can make fish fillets, chili, campers beef stew, chicken breasts with capers, olives, and tomatoes, and more. You have plenty of choice. What is more, solar cooking is a great way to preserve essential nutrients and cook meals at moderate temperature. It is a convenient, safe, and easy way to cook when camping, without using resources such as fossil fuels.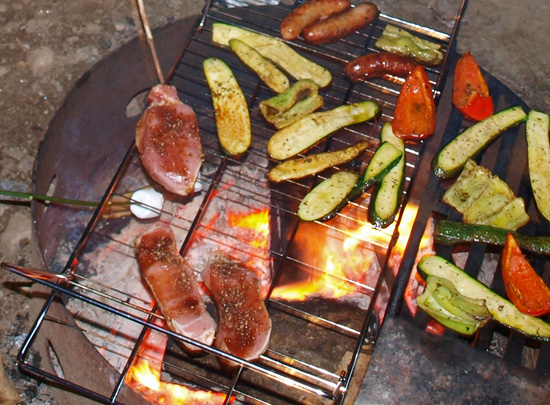 Other Ideas for Low Carb Foods
Foil dinners are ideal for camping, backpacking, and hiking. You can cook the vegetables and meat in a foil pouch. There are plenty of options for low carb camping foods such as eggs in a ziplock bag, gluten free jerky, freeze dried vegetables, Plank fish, and kebabs. Or you can pack staples such as avocados, cheese, pepperoni, as well as dehydrated foods. If you are going on a back packing trip, lightweight and dehydrated foods are the best choice. You will find dehydrated foods in camping outlets, co-ops, and different stores. Another option is to prepare them on your own. You can have vegetable chips made from zucchini or eggplant, for example. Pack pouches of sun-dried tomatoes, freeze-dried spices and herbs, and dried apples and berries. Good food choices for your backpacking trip are protein bars, almond flour muffins, hard cheese, and low carb cheese crackers. Pemmican, jerky, and other dried meats and convenient choices because they supply enough calories and are low in carbohydrates. Consider packing wild salmon and chicken breasts in foil poaches. There are food choices for quick fueling and easy snacks as well. Pack low-carb fruits, seeds and nuts, as well as protein supplements. Prepackaged and prepared meals are yet another option for your camping or backpacking trip, but they are more expensive. Avoid foods that contain preservatives, chemicals, colorings, and other additives. In any case, you may want to pack some ready made meals for convenience and variety, especially if there is no BBQ at the camp site. Pick organic and natural options whenever possible. While most prepackaged meals are loaded with carbohydrates, you can have low carb chili, stew, or omelet.