Surviving the Holidays on Low Carb
You can prepare a Christmas lunch or dinner with any amount of carbohydrates, protein, and fats. The good news is that many meals traditionally associated with the holiday season fit into your low carb diet. Dishes such as rib roast, baked ham, goose, and turkey are considered diet-friendly. You can choose from different reduced carb meals, side dishes, salads, and treats or modify your favorite recipes.
Sample Menus
There are different starters for your Christmas menu, including lobster soup, cottage cheese moulds, and crab stuffed lobsters. Other starters to prepare include low carb Turkish bread and BBQ lobsters. Salads come in a great variety. You can have roasted fennel with mint and feta or green salad with currants, pine nuts, and balsamic. Examples of main dishes include ham slices in cherry sauce, fruit glazed game hens, and roast turkey. You can prepare rich stuffing with almonds, red wine, pork rinds, smoked ham, thyme, parsley, butter, and salt and pepper. Of course, the Christmas menu is not complete without desserts. One option is to make Christmas pudding with brandy cream.
Side Dishes and Low Carb Substitutes
When it comes to side dish favorites, there are plenty of options such as creamed spinach, green bean and cheddar casserole, and cheese and cauliflower bake. Other side dishes to prepare include creamed onions, creamed peas, mushrooms with onions and creamed peas, and more. Some side dishes, for example, green beans and cheddar casserole include bread crumbs and a small amount of flour but you can easily modify them. Instead of white flour, you can use coconut flour, flax meal, or almond flour. Oat fiber is also used to give meals texture. You can use low carb bread crumbs or ground almonds as well.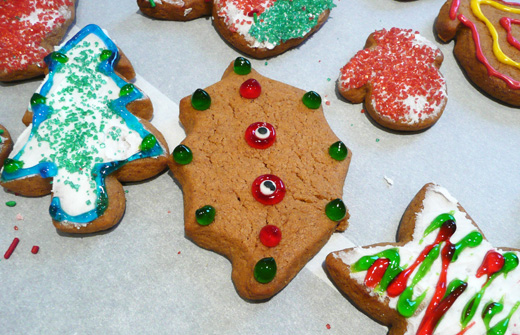 Tips for a Great Low Carb Christmas
You don't have to give up on your favorite side dishes. Just modify them. You can have roasted yams with butter, salt, and pepper but without marshmallows. You can replace the vegetable casserole with side dishes such as cauliflower mash, green beans with almonds, or mock garlic mashed potatoes. Choose vegetables that are low in sugar and starch. You can also have low carb relishes such as celery sticks, baby carrots, roasted red peppers, and marinated artichokes. You can add olives, pickles, and dill pickle spears. Of course, Christmas is not Christmas without gravy. Fortunately, you can make a low carb version. You need some liquid, pan drippings, and a thickener. In this case, you may want to make it without a thickener. Just boil the sauce to reduce it. Of course, turkey is the main dish on your menu. For some people, the refrigerated turkey is juicier and tenderer. Cook the turkey within several days. Finally, a word about alcohol - many drinks contain sugar so consume in moderation.