braised rosemary lamb shoulder recipe
This festive meal is perfect if you have family or friends coming over for dinner. Tender meat combines perfectly with sweet potatoes, beets, and a flavorful mix of seasonings. Vegetable broth adds flavor and nutrients. This recipe is my husband's favorite since the very first time I tried it. While this isn't exactly a quick-fix dish, it is delicious and ideal for special occasions. It is a savory specialty for formal dinners, anniversaries, and other occasions, and the best part is that meat doesn't require marinating.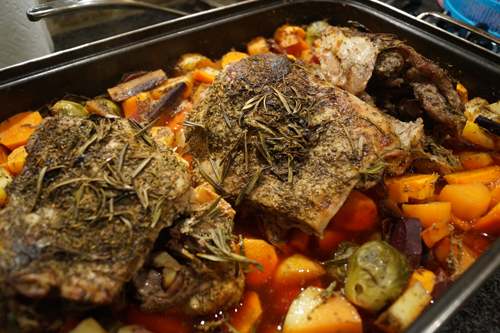 ingredients
3 lamb shoulders
2 onions
7-8 garlic cloves
1/2 cup freshly squeezed lemon juice
2 sweet potatoes
2 Baby beets
2 cups Brussels sprouts
Rosemary
Thyme
Oregano
Salt
Pepper
Vegetable broth/water
MAKES: 10 servings
preparation
Rinse and chop Brussels sprouts, baby beets, and sweet potatoes. Use a baking dish, add oil, and arrange vegetables in the dish. Saute garlic cloves and onion in a frying pan and add to the vegetables. Saute for about 3 - 4 minutes or until golden. Remove from heat and set aside.
Combine salt, freshly ground black pepper, oregano, thyme, and rosemary and mix well. Roll the lamb shoulders on both sides for added flavor. Top the vegetables with the lamb shoulders, sprinkle with freshly squeezed lemon juice and add vegetable broth or water. Cover with aluminum foil. Preheat oven to 400 F and bake until brown (2 hours). Turn heat off and leave in oven for a few minutes. Then remove from oven and set aside for 5 - 10 minutes to cool. Divide into plates and serve with green salad.