cauliflower steaks recipe
This is a very simple recipe to try but the result is so yummy that everyone will be delighted. It is a fail-proof recipe to impress your guests or diversify your menu and serve a balanced and healthy meal. If you are looking for new ways to cook cauliflower, this recipe is a must-try, and grill cooks cauliflower to perfection. This recipe looks really simple and it is but is nice enough for company. You can also add olive oil and freshly ground black pepper to taste, depending on how much steak spice seasoning you use.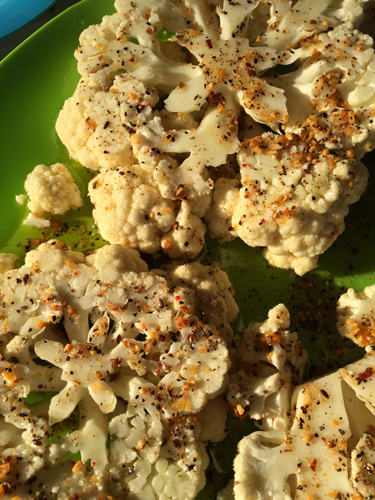 ingredients
1 1/2 - 2 heads cauliflower
Steak spice seasoning
Smoked paprika seasoning
Best prepared on BBQ
MAKES: 6 servings
preparation
Rinse cauliflower well, dry, trim the stems, and cut the leaves. Trim the sides as well using a sharp knife and cut 4 - 5 steaks depending on how large the heads are. You can keep the florets to add to your next day's meal.
Mix steak spice seasoning and smoked paprika seasoning and sprinkle generously the cauliflower steaks.
Preheat charcoal or gas grill to medium high or high. Place the cauliflower steaks with the seasoned side down and then sprinkle generously on top.
Cook for 4 - 5 minutes. You may cover the grill. Turn the steaks and cook for another 4 - 5 minutes. Cook to the desired color and texture and remove. Serve warm. You can serve as a side dish with your main course. Optionally you can add lime or lemon wedges for more flavour.