creamy coleslaw recipe
This creamy coleslaw is light, healthy, budget-friendly, and great to taste. You will love the combination of fresh vegetables, yogurt, and mayonnaise. Dijon mustard turns coleslaw into a delicious and delightful side for any occasion. It is a diet-friendly veggie medley and a great substitute for classic coleslaw you buy at the local store. It is quick and easy to make as no shredding is involved. It's been a staple when guests are coming over and everyone just loves it. You can fix it the last minute or ahead of time.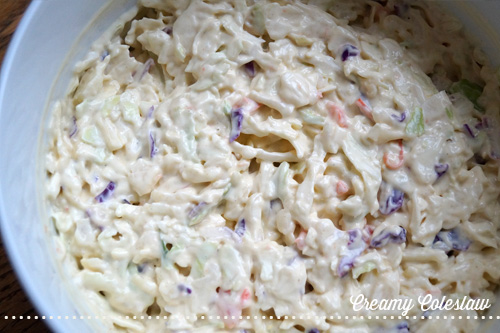 ingredients
1 cup mayonnaise
4 tbs plain yogurt
2 tbs Dijon mustard
1 package (400 grams) shredded coleslaw mix (green cabbage, carrots)
MAKES: 6 servings
preparation
To make this healthy low carb coleslaw, first whisk Dijon mustard, yogurt, and mayonnaise in a small bowl and combine well. You may also use a food processor to process and blend the ingredients. Process until smooth and creamy. Season with black pepper and salt to taste.
You can also add 1/4 cup of milk, 1 tablespoon of lemon juice, 1 tablespoon of white vinegar, and 2 tablespoons of butter milk if desired.
Use a large salad bowl and add the shredded coleslaw mix. Pour the dressing over the coleslaw mix and combine well. Add freshly ground black pepper, or salt if desired. Refrigerate for 2 - 3 hours and serve with the main meal. Refrigerate overnight if serving on the next day. Makes for a great side dish for a barbeque, picnic, or family dinner and takes about 10 - 15 minutes to prepare.