meatballs soup recipe
This filling and delightful soup tastes great and requires just a few basic ingredients to prepare. It is diet-friendly, nutritious, and full of flavors, and you can easily modify it to suit your tastes. Meatballs soup is fast to prepare and makes for a great homemade meal on a winter day. Nothing tastes like good comfort food, and this recipe is the right pick for a down-home soup. A great, comforting combination of vegetables and meat, this recipe only requires products that are already in your pantry! And it is simply a fast feast for your whole family!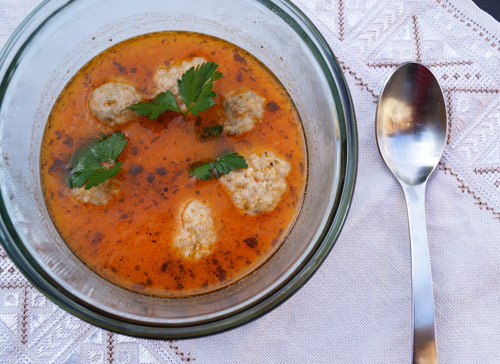 ingredients
250 g minced meat
50 grams oil
2 tbsp almond flour
1 spoon flour
1 egg
1 carrot
6 cups water
1 cup yogurt
2 tomatoes
parsley
salt and pepper to taste
MAKES: 6 servings
preparation
Combine minced meat with 1/2 diced onion, fresh ground black pepper, salt to taste, and egg yolk. Mix well and form small meatballs. Roll meatballs in almond flour, preheat oven, and bring water to boil in a pan. Chop carrot and parsley and add 1/2 diced onion, carrot, parsley, and oil to the pan. Then add meatballs and cook for about 20 minutes. Dice tomatoes and add to the soup. Cook for 10 - 15 more minutes.
Whisk egg yolk and add 1 tablespoon flour and yogurt. Preheat oven, pour the mixture in a saucepan, and stir until the sauce thickens. Then pour 2 - 3 tablespoons soup in the mix one by one and pour the mix back in the soup. Mix well.
Garnish with chopped parsley, divide into bowls, and serve warm.