prosciutto wrapped pork tenderloins recipe
Try new, tasty, and diet-friendly ways to cook pork tenderloins for your dinner party or week day. Pork tenderloins with a blend of carrots, red pepper, celery, and green beans make for a festive and healthy addition to your table. This meal works well as a main dish and can be served with garden-fresh vegetables. Tomatoes balance the flavors and are packed with vitamins and antioxidants. And every meal is better with prosciutto. Your family will love this delicious combination of vegetables, meat, and condiments. Use your favorite spices to add rich flavor.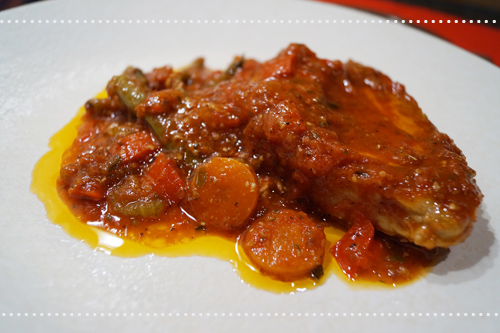 ingredients
6 pork tenderloins
6 slices prosciutto
100 g green beans
1 stick celery (finely chopped)
1 red pepper (chopped)
1 big carrot (chopped)
3 tbs. Dijon mustard
olive oil
1 jar cooked tomatoes - 650 ml
MAKES: 6 servings
preparation
Spread the Dijon mustard on the pork loins and wrap one slice of prosciutto around each. Set aside. Chop the veggies.
Preheat the olive oil in a cast iron pot and cook the pork loins. Cook them with the lid on for 5-7 minutes on each side.
Add the vegetables, 1 cup of water and simmer for another 30 minutes. Add the tomato sauce and cook for 5 more minutes on low heat.