spinach puree and eggs sunny side up recipe
This recipe combines seasonal vegetables and eggs into a hearty and delightful meal. It is a great course for your lunch table and daily fare, and kids just love the combination of flavors and tastes. Puree is a great way to cook spinach and diversify your menu. Eggs add some zip and rich texture to brighten up your menu. It is a simple dish to prepare and has all the nutrients you need. You can serve as a side dish but it is also a tasty meal on its own.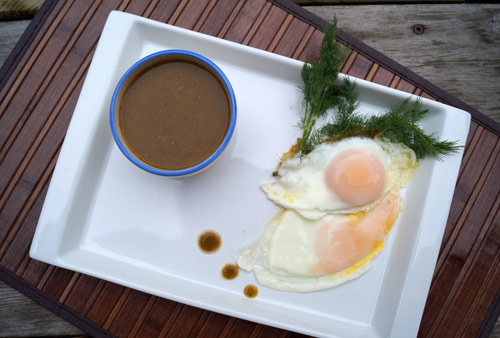 ingredients
500 g spinach
4 cups water
1 medium-sized tomato
salt to taste
parsley
2 - 3 tbsp olive oil
1 onion
1 carrot
4 eggs
MAKES: 2 servings
preparation
Rinse onion, carrot, spinach, and parsley, dice onion, and chop all vegetables. Preheat olive oil, use a large saucepan, and add onion to saute. Cook for 2 - 3 minutes and add chopped carrot. Cook for 4 - 5 more minutes, add spinach and pour in water when spinach is wilted. Simmer for 5 - 6 minutes, add tomato and parsley, and season with salt. Cook for 3 - 4 minutes, leave to cool, and puree in a food processor until smooth.
Pick a medium-sized frying pan, and use a cooking spray to spray a thin layer. Break eggs carefully and put the frying pan on low heat. Remove with a spatula when the bottom of eggs turns opaque and the yolks are firm. Divide fried eggs into serving plates and serve warm with spinach puree.